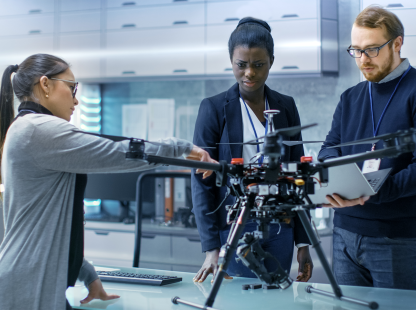 General Engineering (GEN)
The General Engineering (GEN) undergraduate program provides students with an opportunity to customize a plan of study to fit their specific educational and career objectives.
About the Program
The School of Applied Engineering & Technology's (SAET's) General Engineering undergraduate program provides students with an opportunity for multidisciplinary, interdisciplinary, and transdisciplinary study. The program provides breadth in a range of engineering, science and mathematics courses while providing flexibility to develop depth in specialized areas. A degree in General Engineering is structured to address the rapidly changing needs of the engineering and science fields. This program is informed by the needs of industry, education, and government organizations.
Graduates of the General Engineering B.S. program will achieve the following:
Develop specialized expertise through multidisciplinary curricular and co-curricular experiences.
Instill an eagerness for lifelong learning through advanced degrees, industrial training and experiential opportunities.
Work effectively on cross-functional teams in an ethical manner to be socially engaged global citizens.
Develop professional communication by advancing written, oral and graphic communication skills.
Progress in their respective fields to become technical subject matter experts and professional leaders.
Students work closely with their academic adviser to select an existing concentration or develop a custom plan of study to meet their interests and the program graduation requirements.
Major Program Advisor
Dr. Miosotis Hernandez
Room: 265 Fenster Hall
Telephone: 973-596-5373
E-mail:  miosotis.hernandez@njit.edu
Important Links
Program of Study with Concentrations in:

Engineering Innovation and Intellectual Property
Mechatronics
Quality and Reliability Engineering

Learn more about our undergraduate minors from the respective Advisors by using the links below:

Advisor: Dr. Samuel Lieber
Advisor: Dr. Ashish Borgaonkar