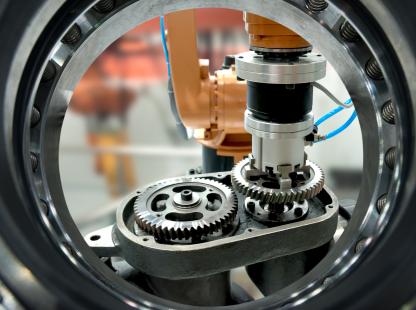 Research
Current research in the School of Applied Engineering and Technology
Dr. Thomas Juliano
Intelligent Systems for Storage and Conveyance
The structural integrity of conveyance and storage systems for wastewater and drinking water is often difficult to assess, since most of these systems are underground and current intrusive assessment approaches are inaccurate and expensive. In many cases, a catastrophic failure is the primary indicator that a degradation of structural integrity has occurred. Although, this reactive maintenance type of approach is undesirable based upon health and environmental considerations, it is often the default practice due to economic and technical reasons. To successfully practice preventive maintenance, as well as, selective rehabilitation and replacement, a reliable means of structural integrity assessment with associated prediction of failure capability is needed. However, this goal is frequently hampered by the difficulty of accessing the system and efficiently inspecting it. In that regard, these difficulties can potentially be eliminated through the construction of "intelligent" systems, which prevent failures and the loss of service by automatically monitoring and identifying sections of the conveyance system that require maintenance.
---
Dr. David Lubliner
Current Funded Grants
Co-Principal Investigator (for NJIT) ENGAGE NSF Grant 2011-2012: NJIT has been selected as one of the 30 engineering schools (10 per year) who will be working to implement ENGAGE.
Co-Principal Investigator $3,000,000: NSF #0638423: 2007-2012: "C2PRISM - Computation and Communication: Promoting Research Integration in Science and Mathematics.

$23,000,000 award to NJIT and St. Barnabas Healthcare System, 2010-2014, funded by the American Recovery and Reinvestment Act of 2009 to achieve widespread meaningful use of health IT and facilitate use of an electronic health record (EHR) by every physician by the year 2014.
Research Interests
Asynchronous Learning Environments
Collaborative Learning Utilizing Shared Data Repositories
Organic Software Design
Integrated Knowledge Repositories
Handheld Medical Scanners
Intelligent Mobile Robot Design
---
Dr. Mohamad Mahgoub
An Investigation Into the Effect of RCA Strength On the Strength of Concrete Using It
One of the questions about recycled concrete aggregate, RCA, is the effect of the RCA strength on the strength of concrete incorporating it. Since the strength of the RCA is rarely known, this has been a difficult question to answer. One day, while considering the disposal options for the large pile of accumulating broken beams and cylinders generated in the concrete lab, it was realized that the NJIT concrete classes routinely mix and test concrete with strengths ranging from 2000 to over 7000 psi. Regardless of the intended design, the actual 28-day strength of each batch is tested. Sorting the testing rubble by strength would recycles it into ranges of RCA strength. Following that, an experiment to examine this effect of the RCA strength on the strength of concrete using it was devised. The idea was to design a 10 ksi mix from local materials, then to substitute RCAs of known strengths for the conventional aggregate. Deviations from 10 ksi would be attributable to the RCA. Lower strength concrete is expected from the lower strength RCA. The effects of partial replacements might also be considered.
The experimental plan is as follows:
Sieve, Relative Density, Bulk Density and moisture analysis of conventional Coarse Aggregate.
Break down recycled rubble of known strength, and sort by sieve size.
Recombine sieved rubble to produce RCAs of known strength, RCAks, having the same particle size gradation as the conventional coarse aggregate.
Sieve, Relative Density, Bulk Density and moisture analysis of RCAks.
Design 10,000 psi mix using conventional materials.
Design four RCAks substitution mixes.
Batch mixes.
Test Batches.
Analyze Results.
---
Dr. Laramie Potts
Research 
Land Surveying, Law and LIS
Environment and Regulation/GIS
Engineering Survey
Land Development
Photogrammetry and Remote Sensing
Geodetic Control and GPS
---
Dr. Arijit Sengupta
Research
Industrial Ergonomics
Manufacturing Workstation Design
Biomechanics, Anthropometric Modeling
Computer Simulation models
Human Models
---
Dr. David Washington
Research 
Protecting the safety of construction and maintenance field crews and motorists on roadways is the top priority of the New Jersey Department of Transportation (NJDOT) and the Federal Highway Administration (FHWA). More than 40,000 people are injured each year as a result of motor vehicle crashes in work zones. In addition, fatalities from work zone crashes have increased more than 50 percent in the last 5 years. The Mobile Barrier, a portable work zone protection device available, has been identified as having the potential to improve the safety of highway workers and motorists.
The objective of this project is to increase safety at highway work zones for maintenance & construction field workers and motorists through implementation of a mobile work zone protection device that serves as an extendable physical barrier to protect the flank of a work zone.
This project will oversee and advise NJDOT efforts to deploy a mobile barrier device in New Jersey.